About AVTX Wholesale
Product You Want, Quality You Deserve
AVTX Wholesale
was established just as the vapor industry was on the come up. In October of 2013, AVTX was the first cash and carry store of its kind to open here in our Dallas wholesale district. As the only all vapor product distributor in North Texas, we have partnered ourselves with industry leaders such as: Space Jam Juice, Cue Vapor, Cannliv and VRK Power Inc.
We service every city in our home state of Texas; along with 16 others states, Mexico and South America. From 'mom and pop shops' to franchises and even large corporations, all have ensured their trust onto our team


Mission Statement:
We have absolute clarity about what we do. "We sell high quality vapor products". Our success will ensure that our customers will build their business, employees build their futures, and our shareholders build their wealth. Our goal is to position AVTX Wholesale as the service leader. Our mission is to set standards of excellence in the vapor industry and to provide excellent customer service with honesty and integrity.
AVTX Open House, E-Liquid Show, Feb 23, 2019
17 LEADING E-LIQUID MANUFACTURERS UNDER THE SAME ROOF OF AVTX WHOLESALE STORE
On February 23, 2019, AVTX Wholesale successfully hosted its very first Open House featuring 17 Industry leading E-Liquid Manufacturers - Coastal Clouds, The Milkman, Hi-Drip, Vape Szns, Smoozie, The Finest, Khali Vapor, Twist, SaltBae 50, Chubby Bubble, Fresh Farms, Pacha Mama, Rounds, Charlie's Chalk Dust, Joybird, Wet Liquids and Great Salt Vape.
WE HAD FOOD, FUN AND LOTS OF NEW FLAVORS TO TRY....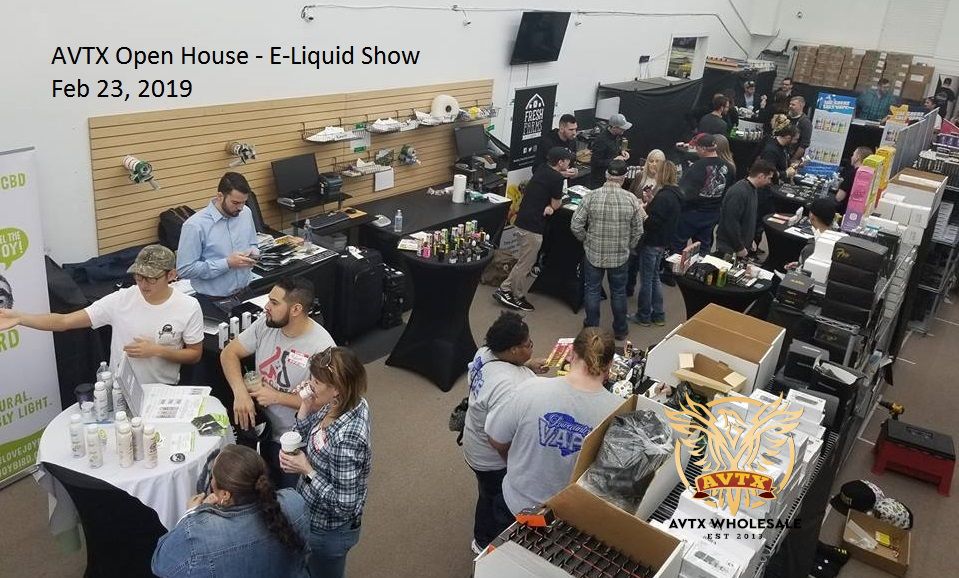 We are very excited and motivated by the participation of our friends and partners. Many many thanks to all the Manufacturers who came all the way to Texas. Excited to see our customers who managed to come from Oklahoma, Houston and Arkansas. Considering the overwhelming participation by our customers and a great success of this event, we are planning to organize another one soon. This time it will be with hardware. Make sure you keep in touch with us.
UPDATE YOUR CONTACT. CONNECT WITH US IN SOCIAL MEDIA.